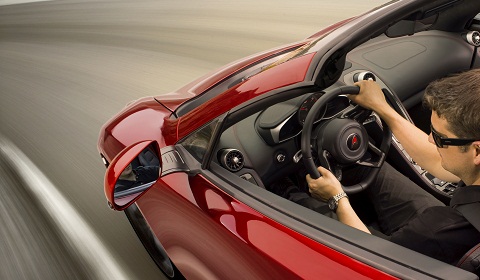 It's official, McLaren will release the long-awaited McLaren MP4-12C Spider very soon! In fact, Jenson Button has already tested its stability up to a verified 300km/h. More information on the MP4-12C Spider will be released over the next few days with orders starting immediately after, in the mean time, we've been given a few extra details from official sources.
The McLaren MP4-12C will feature the same 2013 upgrades as were announced a few weeks ago. It will get the same 3.8 litre V8 engine as the coupe with 616hp and a sprint time, 0-60mph in three seconds. It should also get the same dual clutch seven-speed gearbox and the same carbon fiber MonoCell chassis.
Hopefully the 'very soon' McLaren talk about will be this weekend at the Goodwood Festival of Speed. We'll keep you posted when we hear more information.