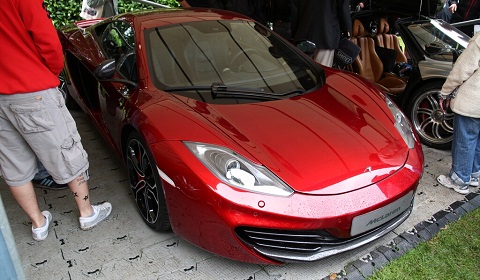 At Goodwood Festival of Speed 2012 today McLaren displayed the updated 2013 McLaren MP4-12C. There isn't too much to point out on this car. The updates are fitted to all new factory cars and are also available, free of charge to current MP4-12C owners.
The changes are as follows. The MP4-12C twin turbocharged V8 gets power increases of 25hp up to 625hp with a revised calibration for the seven-speed SSG transmission. Engine noise inside the cabin is now programmable through the unique Intake Sound Generator with three different settings. The headlights are now linked to the rain sensors when in automatic mode and an easy-exit electric seat with a memory function. Finally, a new Meridian audio equaliser setting is available too.

New cars will get a button for entry instead of the touch panel in the earlier cars with the key fob entry retained. Vehicle Lift will be available as an option on 2013 model year vehicles with lift of 40mm at the front and 25mm at the rear. An 'AUTO LO' function will be added to new cars allowing the desired cabin temperature to be reached in the quietest way possible. Finally, a wider variety of paint, leather and wheel options will be added to the options list.