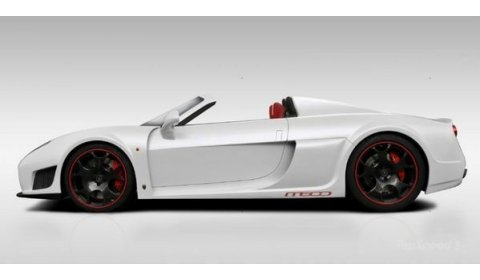 At the recent Pageant of Power event at Cholmondeley, Noble Automotive released the first official picture ever of a Noble M600 Convertible.
The picture is render of how the vehicle could look and will stay a factory styling exercise until interested customers contact the British sports car builder. According to Boutwood, there are definitely no plans at present to produce it.
The Noble M600 Coupe is designed and engineered as an uncompromised and true drivers car, which is neither dictated nor hindered by electronic gizmo's. The M600 has no ABS, no ESP and the traction control only has two settings ‒ on and off.
The M600 is powered by a Yamaha 4.4 liter V8 engine featuring two turbochargers with variable boost. This allows the driver to choose from three settings: the comfort setting represents 450 horsepower, the mid-range track setting 550hp, and the full power or race setting a maximum amount of 650 horses.
The power is transferred via a six-speed twin-clutch manual gearbox to the rear wheels. The Noble sprints from standstill to 100km/h in just 3.0 seconds and the top speed is 360km/h.
[Via AtFullChat]