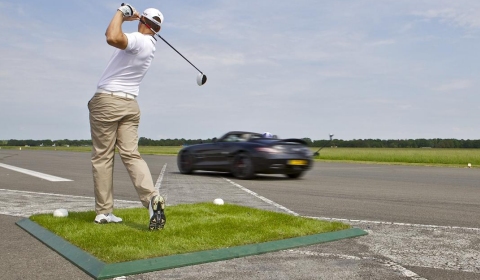 Formula 1 and DTM driver David Coulthard and professional golfer Jake Shepherd set a Guinness World Record for catching a golf ball in the cockpit of a moving car. You can read our original article here, now you can see the video footage of the event, filmed at the infamous Dunsfold Aerodrome aka the Top Gear test track.
The shoot was arranged by Mercedes-Benz as part of an advertising campaign for the Mercedes-Benz SLS AMG Roadster, soon to be replaced by the SLS AMG GT Roadster. The SLS caught the ball 275 meters away from the tee. David Coulthard caught the ball, travelling at 178mph, while driving at 120mph (193km/h). It took just two attempts to get a result!
David Coulthard said:
This world record attempt is definitely one of the most unusual things I've ever been asked to do with a car! Jake Shepherd was great to work with and the performance of the SLS AMG Roadster made driving to catch a mid-air golf ball even more exciting. I am honoured to have received the Guinness World Record for the furthest golf shot caught in a car.