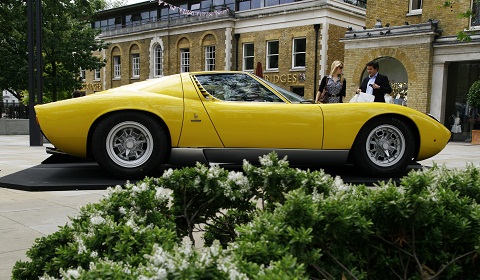 A special open air museum has taken to the streets of London this week. The exhibition runs from 18th to 23rd June 2012 and features a range of iconic Lamborghini models, some taken from Lamborghini's own museum! GTspirit photographer, Derek aka RallyRider, took a brief look at the cars on display.
The stands include a Lamborghini 350 GT, a Lamborghini Miura SV, a Lamborghini Murcielago LP650-4, a Lamborghini Aventador LP700-4, a Lamborghini Diablo 6.0 SE and a Lamborghini Countach 25th Anniversary, the last to leave the factory! A stunning arrangement of Lamborghini's from both past and present paying homage to the Lamborghini V12.
The cars will only be on display for another two days. Today you'll be able to catch them at Potters Field Park, London SE1, tomorrow the museum will be at Marble Arch, London W2. The show has been arranged by HR Owen.