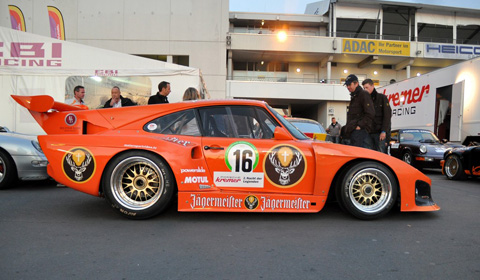 From the dawn of motoring to modern day supercars, the Eifelrennen at the Nurburgring featured a wide variety of cars, but the most powerful cars on track were the Can-Am racing cars. Also present at the Ring were many Kremer Porsche's, with as true highlight the famous Kremer-Porsche 935 K3.
The Canadian-American Challenge Cup or Can-Am, was a sports car racing series which ran from 1966 to 1974. The Can-Am was governed with a minimal amount of technical restrictions, there wasn't a limitation on the engine capacity, turbo- and supercharging was allowed and the aerodynamics were almost unrestricted. The result were racing cars with well over 1,000 horsepower, making the Can-Am the most powerful and arguably insane racing series ever.
Among the Can-Am cars on track were a sinister but also fragile looking Shadow MK1. This unusually low car with small wheels is powered by a seven-liter engine which puts out at least 700hp. There were also three McLaren's, including the M8C with a V8 engine featuring a whopping displacement of 8.8 liters and capable of producing around 750 horsepower. Impressive figures coming from impressive cars.
Another impressive sight were the Kremer-Porsche's. The Cologne based motorsports team is known for their tuned Porsche race cars which competed internationally. Their great achievement was the overall victory (and the third place as well) in the 1979 edition of the 24 Hours of Le Mans with the highly tuned Porsche 935 K3.
In total there were 13 units of this racing car built, from which the orange Kremer-Porsche 935 K3 present at the Eifelrennen is likely the most famous one. The 935 K3 is powered by a twin-turbocharged, 3.2 liter flat six-cylinder which puts out at least 750hp. In addition to this car there were many other Kremer-Porsche's as well, including a few other 935's.
For those interested in these kind of cars and racing history this edition of the Eifelrennen surely provided an entertaining program. And if you have missed this edition, next year there will be another one.