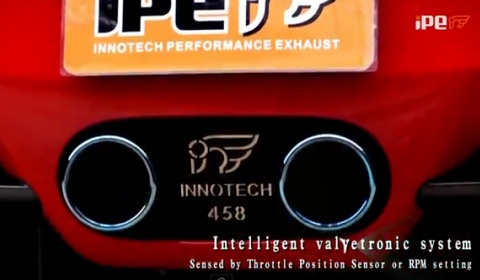 This next video shows a Ferrari 458 Italia Novitec Rosso with iPE-Innotech valvetronic exhaust system. The modifications included are an iPE-Innotech header, a bypass cat-less-pipe, a valvetronic muffler and ti-tips.
The Valvetronic technology is designed to change sound and back pressure. IPE also designed an electronic controller to control the valve automatically by using the engine rpm and fuel pedal signal. Furthermore, the muffler internals were individually adapted and tuned for each different type in order to use Valvetronic technology.
The exhaust has three valve modes: auto, opened, closed. It is made from T304 stainless steel, but titanium systems are available on demand.