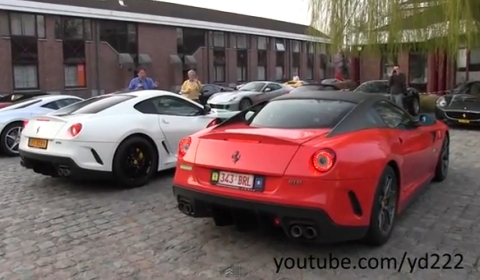 GTspirit reader Jelle Dirven send us a series of videos featuring the Ferrari Club Belgio Event, which was held on the 24th of March.
The event included a 300km roadtrip through the Belgian Ardennes from Waterloo to Daverdisse and then back to Waterloo. Ferrari's in the event were three 599 GTO's, two 430 Scuderia's, a Challenge Stradale, two 458 Spider's, a 458 Italia, a California and a F430 Spider. At the meeting point in Daverdisse there was a Ferrari F40 waiting to join the other half of the roadtrip.
In this first video, you will see the partcipants of the Giro di Belgio leaving Knokke Out in Waterloo.
In the second part of the video, you can see the participants leaving the first checkpoint of the tour.
In this third part, you see a walkaround of all the participants.
In this final part, you see a chase of the participants from Daverdisse to Waterloo in Belgium.