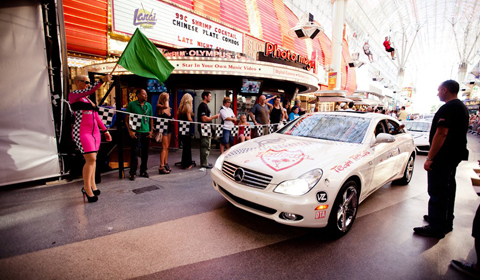 Bullrun 2012 is almost a week away, and we're continueing to learn which teams are participating in this year's rally.
The party has begun, and Team Texas is in the house. The Texas sisters will be joining Bullrun for another wild adventure. Nicole, Christina and Danielle have been Bullrunning since 2008, and ever since they caught the Bullrun bug, they've been a very prominent fixture in the yearly adventure.
These sisters are the complete package; they drive hard, navigate incredibly, party hard and uphold the true Bullrun spirit. Let's face it; Bullrun wouldn't be the same without our favourite Texas trio. For these incredible ladies, Bullrun has become much more than just a road trip.
"Anyone who has ever ridden along with Team Texas could tell you that it is the most interesting, yet adventurous car ride of terror", Danielle said. "We get along great, but we pick on each other for countless hours of pure entertainment. Of course we get sick of each other, but we are such a strong team because we know what to expect from one another."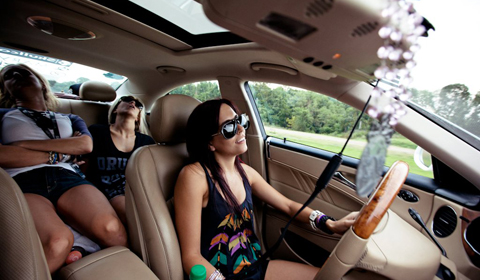 In the Team Texas car, it's all about having a good time. These ladies party all night and in the morning they show the boys how true driving is done. But when this threesome passes by, you'll be sure to know!
"We are infamous for mooning the other teams on the road, nothing says we're in it for the long haul like a full moon," Nicole joked. What would Bullrun be without a little mischievous behavior?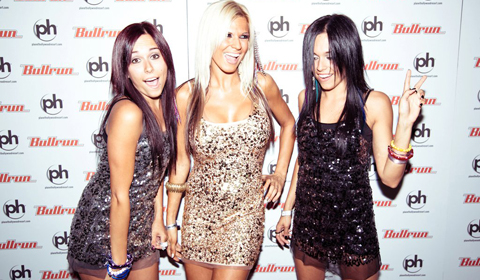 Even though they fly under the radar, Team Texas is always right in the midst of it all! Who in the right mind would suspect them of a dastardly nighttime prank? "Pranking?" Nicole questioned, "We have no idea what you are talking about. We like to keep Bullrunners on their toes, but most of all we like to hang out with Bill Wu – and let's face it, he's a master mind and we are just a few innocent girls who push the pranking limits!"
But above all else, Nicole, Christina and Danielle are best known for partying until the sun goes down. Though they do like to party, the team feels bitter-sweet about being known only as a party team. "We are a little bitter sweet about it, for the sole fact that last year, above all we showed tons of other teams that we would out-party them, and then show them up the next morning, beating them to the checkpoint", Christina said.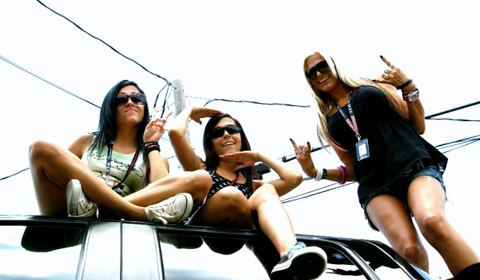 Team Texas' car of choice has become a running joke. The truth is that every year these sisters participate in the rally, they don't even know what they will be driving until the last minute. In 2010, they showed up to New York City without a car. But they still managed to conjure up a Cadillac Escalade for the rally!
"The car is always the most sensitive topic," the Texans agreed. "It's also the most difficult part of our Bullrun planning, which of course we do over countless adult beverages. We refer to every car we cross paths with over the year as 'an option'. We might go to bed the night before the start line without a clue what we are driving, but we assure you – a car will be on that start line!"
Look out for Team Texas on the road – and watch the 2012 adventure unfold! You can follow Team Texas on Twitter and on Instagram (search for 'thedemastwins'.)