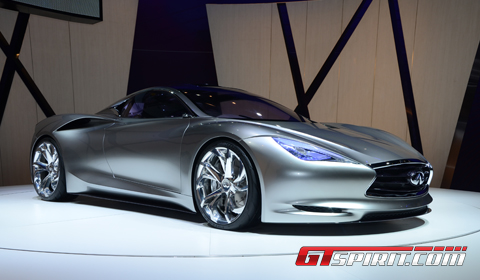 Infiniti's first running prototype of the range-extender sports car, also known as the Infiniti Emerg-E Concept will make its debut on the hill climb at the Goodwood Festival of Speed 2012. F1 pilot Mark Webber will guide it up the hill during the Saturday run.
Also powering up the Earl of March's driveway will be the Infiniti FX 'Vettel Edition' and of course there could only be one man to drive it: confirmed for Sunday is F1 double World Champion, Sebastian Vettel himself. The third Infiniti going up the hill will be the M35h hybrid.
The Emerg-E Concept is a mid-ship electric motors powered sports car concept. It projects Infiniti's electric vehicle technology deep into the future with a range-extender powertrain. Combining performance with the scope to drive in urban conditions for up to 30 miles with zero emissions, it emits no more than 55g/km of CO2 over a 300 mile combined range.
It has a light, ultra-compact, Lotus-engineered three-cylinder 1.2 liter 35kW engine. It operates between crank speeds of 1,500-4,000rpm, producing peak power at only 3,500rpm. Its range-extender driveline is the first for Infiniti.