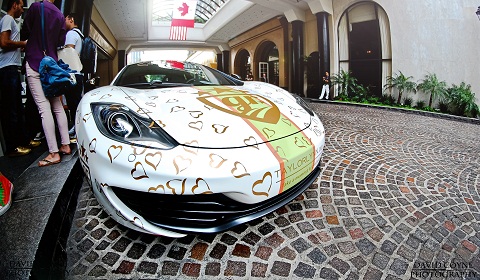 We've got a second set of photos from GoldRush Rally 4 to share with you, this time from David Coyne Photography. GoldRush Rally 4 – Rise Against the Sun set off from the Beverly Wilshire hotel yesterday. It's the fourth time the event has been held and this year looks to be the most successful edition yet.
Among the cars captured by David, you'll spot two Veyron's, a Maybach 62, the fantastic Tron Camaro and a Gold wrapped Mercedes-Benz SLS AMG. We're told that the rally has now been joined by a third Bugatti Veyron.
This year, GoldRush Rally 4 will be split into two stages with a flight in between to take the cars from west to east coast. The rally started yesterday morning from the Beverly Wilshire and will take in two west coast stops in Scottsdale and Las Vegas. The cars will then be loaded onto a plane and flown out to Atlanta to start the east coast leg. This will take in stops at Panama City, Orlando and Miami!
You'll also notice the Taylor Lynn Foundation McLaren MP4-12C. This is the GoldRush Rally 4 official charity. They will be collecting donations in exchange for gold stars which will be added on to the car during the rally. The Taylor Linn Foundation offers 'microGRANTS' to children to give them the opportunity to participate in an activity or function that they would not be able to otherwise. To donate, please visit their website.
Finally, if you want more details on the rally, it's destinations, the hotels, the teams facebook pages, then please visit our Essential Guide to GoldRush Rally 4 – Rise Against the Sun. For more photos please visit David Coyne Photography's Facebook page.