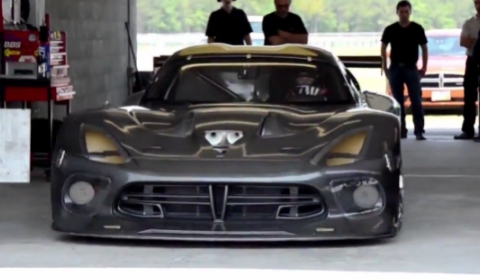 This is the first video of the 2013 SRT Viper GTS-R, which is put through its paces at its first track test. The SRT Viper GTS-R is expected to compete in the American Le Mans Series GT class later this year and driver Marc Goossens took it for a spin. He said:
It has great handling. We all expect to have good power from the engine; you can feel it on the straightaway. The car has great potential in any type of racing situation. We haven't been extracting everything out of the car right now but we can definitely see that there's potential there and that's over the whole line. We just need to explore everything now and go into deeper detail and see how we can get this car as competitive as we can as soon as we can.
The SRT Viper gets an 8.4 liter V10 unit producing 640bhp and 600lb-ft of torque. It has the most torque of any naturally aspirated engine in the world. The new GTS-R is built for three things: speed, reliability and durability. The GTS-R is all about winning endurance races, such as the Petit Le Mans, a 10-hour race at Road Atlanta in Georgia, and the 24-hours of Le Mans in France. It's also built to run shorter races in the ALMS, generally two hours in duration. The GTS-R will run in the GT class against Ferrari, Porsche, BMW and Corvette among others.