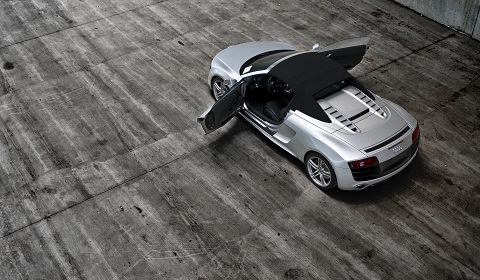 Spyker Force Automtoive Photography recently got a chance to photograph the Audi R8 V10 Spyder in their usual combination of locations. Below you'll find studio, detail and open air shots of the German supercar along with a bonus short video. The photographer behind the photos is Alexander van Boekholdt, a Dutch snapper with a passion for automtive photography.
The Audi R8 V10 Spyder was first revealed back in August 2008 before it made its world premiere in Hollywood blockbuster Iron Man II. It entered production soon after a debut at the Frankfurt Motor Show 2009. It features Audi's 5.2 FSI V10 engine producing 525hp and 530Nm of torque. We expect to see the R8 facelift model later this year or early next year with a replacement to follow in 2014.
Don't forget to check out Spyker Force's earlier photo sessions with the McLaren MP4-12C, the Jaguar XKR-S and at Spa Italia 2012! You can find more of the R8 shoot on their blog or on their Facebook page!