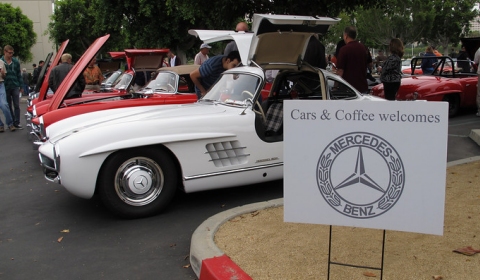 This past Saturday's Cars & Coffee in Irvine, CA, home of the original Cars & Coffee, featured Mercedes-Benz as the marquee for the day. Plenty of wonderful classic and modern Benzes filled up the especially reserved "corral" area. Seven 300SL's were present as well as a handful of "lesser" SL models.
The Mercedes-Benz Classic Center US brought a Pullman as well as a very rare 230S Special Roadster. The modern Benz side was well represented also and featured two SLS's, an SLR as well as several Black Series CLK's and a C Class.
Through-out the rest of the lot there was a great varied mixed of cars that show the diversity of the Southern California area. Hot Rods, Muscle Cars, Customs, Imports, Vintage, and Exotics, name the category and like every single Saturday through-out the year they were all well represented.
Leonard Mayorquin was at the event and send us this report and a series of pictures.