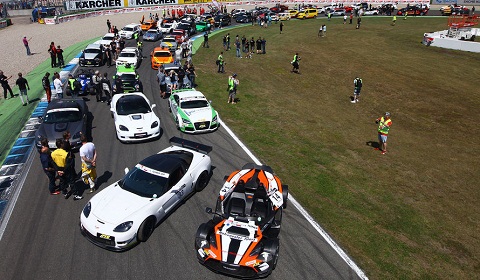 This years annual Sport Auto Tuner Grand Prix took place at the Hockenheim cicuit over the weekend. The Tuner Grand Prix has become an annual tradition for German tuning brands and the final trophy is highly coveted. This year, 24 different companies took part and an estimated 30,000 visitors arrived to take a look at the cars.
The winner of each class is decided by Sport Auto drivers who have to set five fast lap times. The average of the five fastest laps is then calculated and the highest score wins its respective class. 2012 saw the introduction of 16 classes seperated into two different groups: Group A (Vehicles that are not street legal) and group B (street legal vehicles). The class range from C15 Supersport to C5 Turbodiesels up to 2000cc. 2012 even saw the introduction of an alternative drive category.
The field was highly regulated this year too. Cars must be based on a production vehicle, they needed to use street legal sports tyres, noise levels must be less that 98 dB and the engine enhancements must be commercially available for the car. Whilst the front passenger seat is optional for Group A vehicles, Group B vehicles must be fitted with both.
Manufacturers included Vath Performance with their Mercedes-Benz C63 AMG, GeigerCars with two Corvette ZR1's and a Cadillac CTS-V, Hohenester with a Gumpert Apollo and MTM with their T5 bus! Luckily, our friend Gumo managed to film some of the cars for us. You can watch the videos embedded into this article including the 9ff GT9 CS and the Gumpert Apollo!
Winner's included the VOS Lamborghini Murcielago in Class 15 – Supersports with a combined time over the five laps of 11:40.560 and a fastest of 1:13.387. The fastest time of the day went to Hohenester Ltd's KTM X-Bow R which set a fastest lap of 1:05.737 and a combined time of 9:53.454; enough to win the Class 11 Turbo Funcars. You can see the full results here.
[Picture via SportAuto]