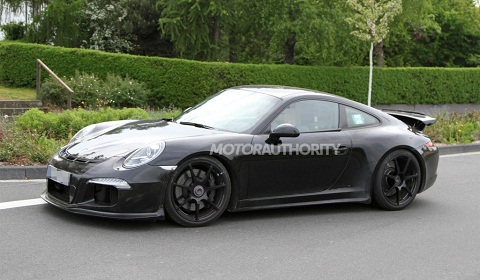 Spyshots have surfaced showing the 2013 Porsche 991 GT3 wearing very little camouflage, if any at all! The GT3 is expected to go on display at the Paris Motor Show in September. These photos reveal that the project is on track, the bodywork appears complete with a small amount of camouflage still covering up details such as the rear diffuser.
The pictures reveal that the 991 GT3 will get larger air vents at the front. Camouflage blocks two new verticle vents and the nose will also retain its characteristic bonnet vent. Daytime running lights are now incorporated into the part of the air vent giving the design a sleeker look. The GT3 side skirt appears more angular on the 991 GT3. This gives Porsche's new track model a sharper while the rear fender bulges help make the design more aggressive too.
At the rear, the biggest change can be seen. The rear spoiler appears to feature a ducktail design the adds a thin spoiler with smaller end sections than the outgoing model. To our eyes, this makes the spoiler look smaller than the 997. Porsche engineers have also included the distinctive central exhaust to the latest model.
The Porsche 991 GT3 is going to be one of Porsche's most important models. The GT3 is the most track-biased 911 and Porsche engineers will be using this model as the basis for a new generation of its successful race car. Expect the GT3 to produce 450hp from its 3.8 liter flat-six. Porsche engineers should save around 40kg over the standard 911 model thanks to a stripped out interior, lightweight wheels and lightweight body panels. We are told Porsche will only offer a PDK gearbox with the 911 GT3. The PDK transmission is specially developed and tuned for the new Porsche 911 GT3.
For a full gallery, visit MotorAuthority.