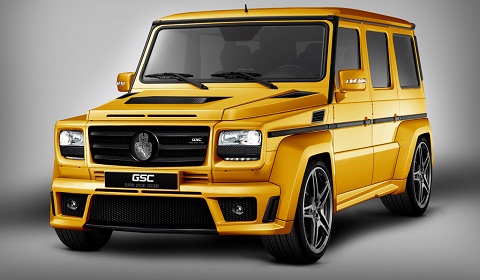 The final German Custom Specials (GSC) rendering we have to show you is based on the Mercedes-Benz G-Class. GSC released a bunch of renderings at the start of the year, the trouble is, they failed to anyone about them! At the moment, GSC seem keen to work on Lamborghini's and Mercedes models. The G-Class gets GSC's wide body kit, the complete conversion is named the GoldStorm thanks to its Gold paintwork!
The wide body kit consists of carbon fiber bodywork additions. The design features custom headlights and taillights with a new front bumper including GSC logo in place of the Mercedes crest, a new rear bumper, side skirts, fenders flares, a new hood with air vents and a carbon fiber grill. We're told that the paint work will be covered by a chrome Gold foil and that GSC will fit a new quad exhaust system exhaust.
At the moment, the Mercedes-Benz G-Class GoldStorm is just a rendering. However, now that we've seen the Mercedes-Benz CLS 63 AMG Stealth by GSC on the streets, hopefully these renderings will become reality at some point in the near future. GSC have partnered with established tuners Enco Exclusive to make it easier to bring their designs to life.
GSC have also released renderings of the Porsche Panamera Turbo Nighthawk, the Mercedes-Benz ML Typhoon, the Lamborghini Aventador Triangle and the Lamborghini Aventador Estatura GXX.