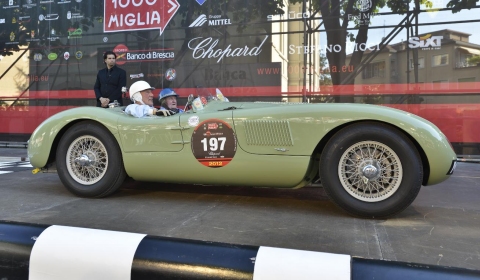 Sixty years after they tackled the 1952 Mille Miglia in a C-type Jaguar equipped with a prototype disc-brake system, Sir Stirling Moss and his co-driver, Norman Dewis, recreated history by driving the 2012 event, now the world's most prestigious regularity rally.
Once again, the pair were behind the wheel of a Jaguar C-type, this car being chassis XKC 005 – the very car which, later in 1952, Sir Stirling Moss drove to victory in a sports car race in Reims thereby recording the first ever competition win for a disc-braked car.
Just as they did in 1952, Moss and Dewis started this year's Mille Miglia from beside rather than on the start ramp – as sixty years ago Moss was concerned about the danger of grounding out the C-type – before completing a parade lap around Brescia behind a police escort.
Following the parade lap by Moss and Dewis, the C-type XKC 005 joined the other five Jaguar Heritage Racing entries in this year's Mille Miglia to take the start of the event with its official crew. The additional five Jaguar Heritage Racing entries includes two more C-types (XKC 018, first owned by Juan Manual Fangio, and XKC 045), a Mk VII saloon, and both roadster and fixed-head examples of the XK 120.