Martin Scorcese and Richard Attenborough have joined forces to produce a film called Silver Ghost, which will tell the life stories of Charles Rolls and Henry Royce, the founding fathers of the Rolls-Royce company. But the true protagonist will be Lord Montagu, one of the first petrol heads in history.
Top Gear reports the movie will be set in the early 1900s and will tell the story of Lord John Douglas-Scott Montagu, a British Conservative politician and promoter of motoring. The Lord even launched a monthly magazine called The Car Illustrated, quite remarkable in an era when the speed limit was a whopping 2 miles per hour (3.2km/h) in towns and 4 miles per hour (6.4km/h) out of town, by requiring one person whom should carry a red flag walking 60 yards (55m) ahead of each vehicle. Undoubtedly Lord Montagu was pleased when the speed limit was lifted to 20 miles per hour (32km/h) in 1903 (most likely without a person walking in front of the vehicle).
The Lord was the first ever to enter the yard of the House of Commons with a car in 1899. As a true motoring pioneer Montagu drove his Daimler (pictured below) with an output of twelve horsepower into the yard. But a few years later he bought himself a Rolls-Royce Silver Ghost. Lord Montagu commissioned his friend Charles Robinson Sykes to sculpt a personal mascot for the bonnet of his Silver Ghost. Sykes chose Eleanor Thornton ‒ mistress of Lord Montagu ‒ as his model and created the now famous Spirit of Ecstasy which is used as the trademark hood ornament on cars manufactured by Rolls-Royce.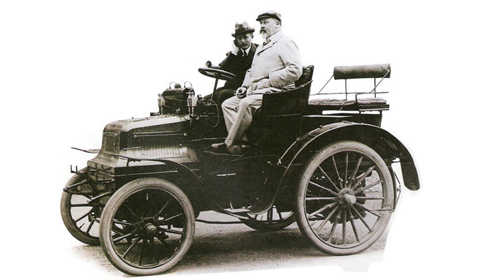 Former chairman of Rolls-Royce, Sir Ralph Robins said about Silver Ghost: "It covers the thrilling and tragic events during which one of the greatest engineering names in the world was created." Most likely the film won't tell very much about Rolls-Royce but presumably it will focus more into the life and love of the Lord and his love affair with the 'Spirit of Ecstasy'. Nevertheless the film will provide an interesting view into an era when cars were a totally new phenomena.
The screenplay has been written by Sharman Macdonald, the mother of actress Kiera Knightley. It's rumoured that Christian Bale will be a starring as Lord Montagu. But at this stage, there is no further information or rumours regarding the actors involved.
Martin Scorcese is an award winning American film director who has directed movies like Taxi Driver, Raging Bull, Goodfellas, Casino and The Departed. Richard Attenborough has won many awards as a film director and producer, including two Oscars for his 1982 biographical film about Gandhi. But perhaps some of you might remember him for starring in Jurassic Park, wherein he plays the eccentric billionaire who has created the park full of cloned dinosaurs. And now he will revive the past once again. Given the names involved, this will revival will be great.
[Via Top Gear]