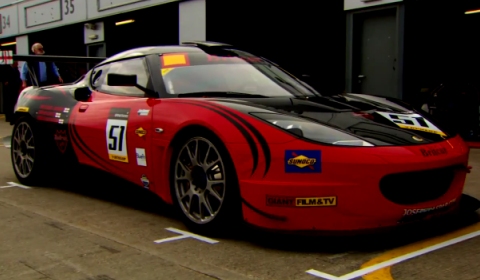 The third round of the Britcar Endurance Championship took place over the weekend, and Team Bullrun's Lotus Evora GT4 finished second in its class on Saturday at the Snetterton 300. The team's Lotus Evora GT4 has been performing near-flawlessly this season, and the team currently holds onto their first-place position in the points.
The team consists of drivers, Martin Byford, David Green and Richard Adams. Martin's qualifying lap was fast enough for the team to qualify third on the starting grid. Richard Adams took on the first part of the race, with David Green taking the third stage and Martin Byford finishing the final stint in the three hour race.
The safety car took to the track six times during the race, and two were particularly costly for Team Bullrun as they fell behind the pack due to pit-stops. Nevertheless, they adapted their strategy during these safety car laps and managed to move up from third to second, scoring the fastest lap along the way. Martin Byford's final laps brought the team into second place. The team now leads the championship. Adams said:
Our nearest rivals finished fifth, so this second place is really great news and now we lead the championship, which obviously feels fantastic. It wasn't an easy race and we lost out twice behind the safety car, having to unlap ourselves. What really got us this result today was the Evora's excellent fuel consumption. Driving behind the safety car for so many laps meant we were able to take a gamble and pit one time less than we ordinarily would have, and the gamble paid off.