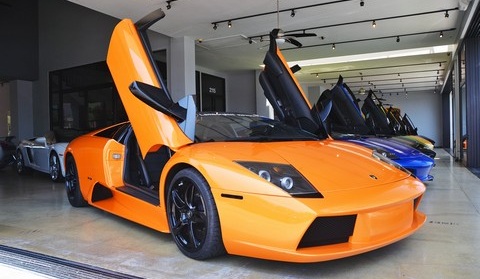 The United States are home to many supercars and that is something didn't slip the attention of Lamborghini. The Italian manufacturer has several showrooms servicing the entire US. One of them is Lamborghini Newport Beach in California which has at least seven Murciélago's in its showroom.
When looking at the gallery below you can see an Orange Pearl Mica Murciélago Roadster, a Montery Blue LP640 Roadster, a Nero Pegaso LP640 Roadster, a Verde Ithaca LP640 Roadster, a Giallo Corona LP640 Coupé, a Pearl Mica LP640 Coupé and a Nero Pegaso LP670-7 SV.
All of these Lamborghini V12's are for sale at Lamborghini NewPort Beach.
[Via Luxury4Play]