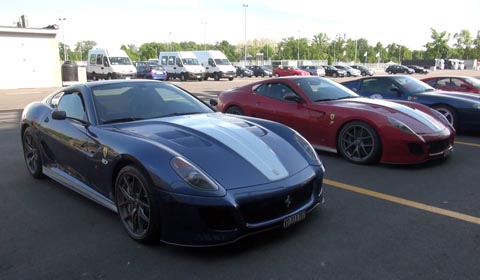 Friend Tim aka Shmee150 visited Monza in Italy a few weeks ago for the Ferrari XX Programme aka Ferrari Corse Clienti. In the parking area he came across these two special 599 GTOs.
They are built to reflect the owner's XX cars; number 27 and 7. With matching paint jobs that differ from the standard GTO style, carrying the numbers at the side as well as the blue one featuring the door-mirrors of the XX they look pretty good!
You can also see some other lovely cars present including another 'stock' GTO from Connecticut, USA, a Superamerica and also a yellow 612 Scaglietti.