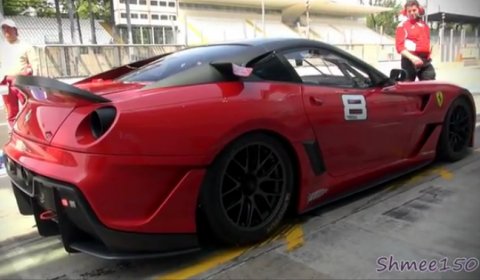 Our friend and YouTube member Shmee150 had the incredible experience of riding in the passenger seat of a Ferrari 599XX, a car with an epic 720hp V12 and just 1,430kg to carry around that laps Fiorano ten seconds faster than an Enzo.
The ultimate track-toy from Maranello was filmed by Tim this week at the Autodromo Nazionale di Monza, Italy during the Ferrari corse clienti. This is a program for the lucky owners of 599XX and 599XX Evolution racers giving them the option to drive the cars at the track, while being supported by the people from Ferrari.
Just listen to the roar of the ultimate seven-figure toy! This particular car is #8 and currently available for sale, so if you interested let us know.