It's truly a sad day when one has to announce that an automotive legend has passed away – and this one is particularly hard. Caroll Shelby, a true gear head and mastermind behind the Shelby Cobra and the Shelby GT500, passed away in a Texas hospital on Thursday, May 10th, 2012. Caroll Shelby International is saying that he had been hospitalized for pneumonia, and passed away late Thursday night.
While he was best-known for building cars, Shelby was also an avid racer. Shelby first entered the spotlight in the automotive world when he won the grueling 24 Hours of Le Mans in 1959.
Fascinated with racing, Shelby combined a Ford V8 engine with a British sport car chassis to make the now iconic Cobra, which debuted in 1962, and the Cobra Daytona Coupe (pictured below) which debuted in 1964.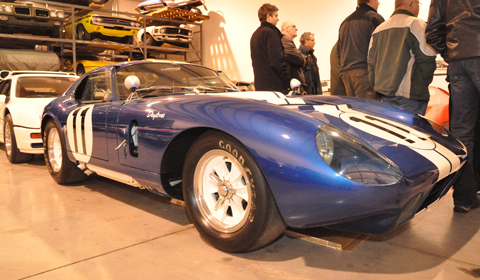 One of his most well-known accomplishments occurred during the 1966 24 Hours of Le Mans race, where Shelby's GT40 Mk. II's finished 1-2-3, ending Ferrari's domination of the event.
After spearheading Ford's efforts to beat Ferrari at LeMans, Ford asked Shelby to help develop a 'hot-rod' version of the Ford Mustang in 1965. Through this collaboration, the GT350 and the GT500 were born – cars still sought after by collectors around the world.
Shelby created countless high-performance machines that truly turned the automotive world upside-down. Fifty years after he began building cars, the ever-popular GT500 variants populate streets around the world. In North America, it's hard to even drive for 10 minutes without seeing one of Shelby's beats tearing up the asphalt.
One thing is for sure, Shelby had a good run. Though we worked on an estimated 165 projects, he estimated that only seven or eight turned a profit. Even so, those successful projects made a name for himself, and because of Shelby's hard work and positive attitude, his name will never be forgotten.
Shelby will be greatly missed by the car community around the world. Rest in Peace Caroll Hall Shelby.