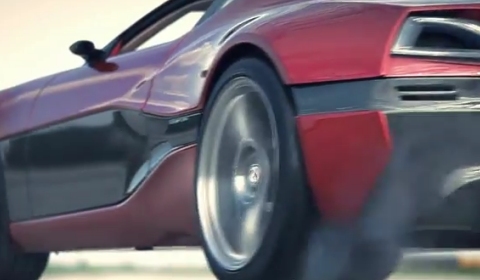 Rimac Automobili released this teaser of an upcoming video showing their Concept One in action. The video is an early announcement of their upcoming film, in which the Rimac will showcase its full potential.
The Rimac Concept One made its public debut at the 2011 Frankfurt Motor Show. With 1,088hp and a torque of 1,600Nm available from zero rpm, the Concept One can reach 100km/h from standstill in 2.8 seconds and continue to accelerate to the limited 305km/h. 92kWh of energy in the Battery Modules delivers enough juice for up to 600km of range.
At the Top Marques Monaco carshow two weeks ago they displayed the full electric car fitted with HRE Wheels and a new high-performance tyre from Vredestein, the Ultrac Vorti. The tyre was designed by top Italian designer Giugiaro.
Rimac also revealed the price tag of the Concept One at the annual carshow and told us that the Concept One will receive a distinct redesign. The new model will have more interior space, will have a longer footprint and include additional interior upgrades to enhance the passenger's comfort. The Concept One is priced at 1,000,000 euros excluding local taxes.
Stay tuned for the full video!