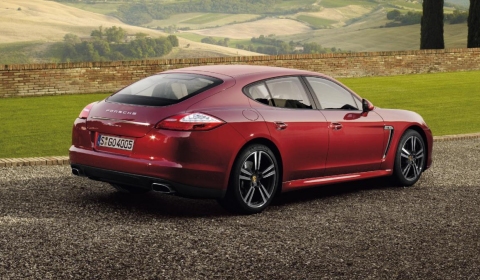 Porsche is planning to expand their current line-up of cars in order to meet the targets set for 2018. The German manufacturer aims to double deliveries to at least 200,000 cars within six years. Now an interesting rumour regarding a new model has emerged.
According to Automobile Magazine, Porsche is working on a mid-engined four-door coupe scheduled for late 2015. This car, designated Porsche 960 and supposedly dubbed "FeFi" ‒ an abbreviation of "Ferrari Fighter" ‒ will compete with the Ferrari FF. Whereas the Italian grand tourer is powered by a V12, the Porsche will use a twin-turbo flat-six.
The Porsche 960 will be built on the MSB platform which will also underpin the Volkswagen Group's rear-wheel drive based cars like the VW Bluesport, Audi R5, Porsche Speedster and possibly the next generation Porsche Cayman and Lamborghini Aventador successor.
This news is quite remarkable, but keep in mind it's also highly speculative. So we'll have to wait some time so see what the future holds for the Stuttgart based carmaker. Stay tuned for more!
[Via Autoblog.nl and Automobilemag.com]