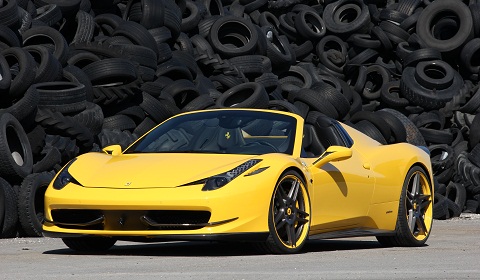 Novitec Rosso have today announced their aerodynamic kit for the Ferrari 458 Spider. The Ferrari 458 Spider gets a new aerodynamic kit as well as suspension, power and cosmetic upgrades. It's a complete makeover for the drop-top Ferrari!
The Novitec Rosso Ferrari 458 Italia features a unique aerodynamic kit. Carbon fiber parts, designed in a wind tunnel at the University of Stuttgart include, a two-piece front spoiler with side flaps, air scoop wings, a ventilation grille, exterior mirrors, a side skirt, diffuser and a rear spoiler lip. Blacked-out taillights, side markers and auxiliary LED brake light complete the look.
Engine upgrades extend only to the first stage at the moment. Ferrari's 4.5 liter V8 has been fitted with a carbon fiber air box with modified air routing. Novitec Rosso have also fitted their custom made high-performance exhaust system manufactured from Inconel. This features two high-performance manifolds, sport catalysts and a rear muffler. Optionally, a butterfly valve can also be fitted. The sports exhaust alone releases an extra 39hp as well as realising a 21kg weight reduction.
All together, the Novitec Rosso Ferrari 458 Spider produces 609hp at 9,100rpm and peak torque of 569 Nm at 5,400rpm. Top speeds of 325km/h are possible along with a more aggressive throttle response and a moderately higher redline. Of course, the Ferrari also gets newly programmed engine electronics with custom mapping for ignition and injection. To present the engine, Novitec Rosso have fitted a carbon fibre engine cover.
The suspension gets Novitec Rosso's hydraulic suspension system meaning that, at the touch of a button, the front of the car can be raised by 40 millimeters, reverting back to the original ride height at speeds in excess of 80km/h. The ride height has been reduced by 35 millimeters to improve handling. Novitec Rosso sport sway bars can also be fitted with the same purpose.
The wheels are Novitec Rosso NF4 forged wheels measure 9Jx21 inches at the front and 12Jx22 inches at the rear. They weigh just 9.9 and 13.5kgs each making them one of the lightest options of their size. Pirelli adds PZero high-performance tires in sizes 255/30 ZR 21 and 335/25 ZR 22.
The inteior features carbon fiber elements such as the center console, the bezels above the speedometer, the climate sensor and longer shift paddles. Novitec offers bespoke interiors, tailored to the customers own specifications!