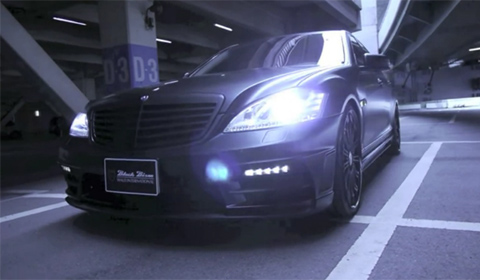 Wald International has released a couple of videos showing a pair of sinister looking Mercedes models. The Japanese tuner has modified and wrapped both Mercedes', making the two German cars even more impressive.
The first car is the flagship of Mercedes, the luxurious S-Class (W221). The tuning package named Wald Sports Line Black Bison Edition features an aggressive front and rear fascia, sportier fender ducts, refreshed sidesteps and two new rear spoilers – one on the decklid and one above the glass. To complement the matte black wrapping, the S-Class rides on 22-inch matte black Renovatio wheels.
The second car is the Wald Sports Line Black Bison Edition, based on the Mercedes CLS (W218). The executive-size coupe also comes with a new and more aggressive front fascia, sportier fender ducts and aerodynamic side skirts. The matte black CLS is fitted with P21C Portofino II wheels measuring 20-inch and colored matte black in combination with alumunium styled spokes.