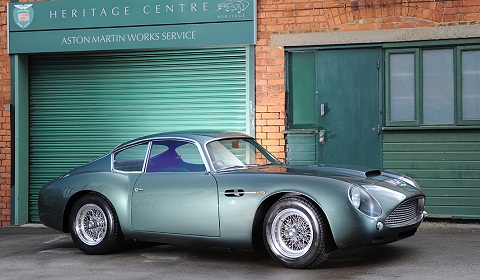 Bonhams will auction one of four Aston Martin DB4GT Zagato Sanction II models at this years Newport Pagnell all-Aston Martin sale. Estimates place the car between £ 1.2 million and £ 1.5 million in value, Bonhams are advertising it as their headline lot. The sale takes place on Saturday 19th May 2012 at the Aston Martin Works Service factory.
While this isn't one of the original 19 Aston Martin DB4GT Zagato's, this Sanction II model did have official backing from the factory. It was built by R.S. Williams Ltd and bodied by Zagato in Italy after receiving official sanction from the factory. All four were unveiled on 22nd July 1991, this particular chassis is currently owned by a German collector.
When Aston Martin and Zagato produced the original DB4GT Zagato back in 1961, 23 chassis numbers were assigned. However, only 19 cars were ever produced. The Sanction II models were built and assigned the remaining chassis numbers. Neither the word recreation or replica fit these cars, visually, they perfectly recreate the original car. This was largely due to the fact that the builder, Richard Williams, used his own original example of the DB4GT Zagato as a model.
This was chassis number '0198/R' shows 4,748 miles. It features a larger, 4.2 liter engine, than the original 3.7 liter. This is coupled to a four-speed David Brown gearbox. Power figures are 50bhp higher than the original car totaling 352bhp. The £ 1.5 million estimate represents a third of the price you would expect to pay for an original DB4GT Zagato.
It will be offered after completing a re-commissioning at Aston Martin Works. This will include changing the cylinder head gasket, carburettor strip and clean, engine tune, fitting the latest RSW suspension uprights, and a full service at a cost in excess of £ 12,000.
The Aston Martin DB4GT Zagato Sanction II sits at auction alongside many historic Aston Martins. Notable lots include an ex-Royal Household Aston Martin Virage Volante once owned by HRH Prince Charles with an estimate of £ 50,000 to £ 70,000. A unique, one owner 1971 Aston Martin DBS Estate is also up for sale with the same guide price.
[Via ClassicDriver]