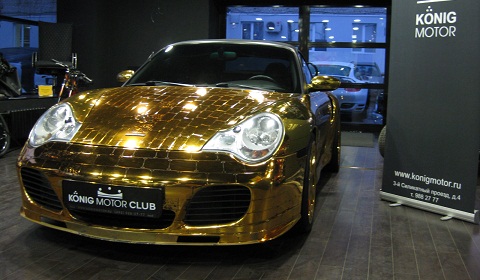 A unique Porsche 996 Turbo Cabriolet has been offered for sale by a Russian car dealer. The drop-top Porsche features 20kg of gold plating, a gold chrome wrap just wasn't good enough! The metal work features designs etched by Denis Simachev, a respected Russian artist. It was reported to have cost around 330,000 euros.
The car has an interesting background. It was once claimed to have been stolen by a prospective buyer. The previous owner handed over the keys to the man for a test drive, to find that the buyer simply drove away. The car was recovered after a while and it seems the owner has now decided to place it up for sale once again!
On top of the eye catching exterior, there's an equally eye-catching set of interior mats. The car is fitted with an aftermarket Gemballa exhaust, a Brembo brake system and a set of Techart wheels. It's showing 58,535km at the moment.
The car is listed on Konigmotors website for 1.8 million rubles. While that might sound a lot, today's exchange rate puts that at 46,300 euros. The website describes the exterior as gold leaf which perhaps explains the low price. Whether or not this is a true gold plated Porsche remains up for debate. Certainly doesn't look like gold leaf to us…
[Via Autogespot]