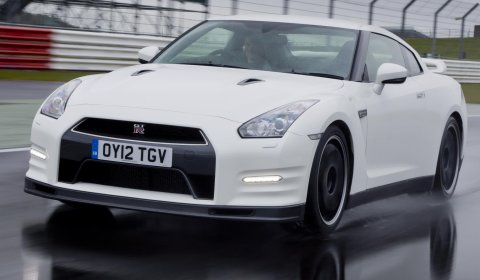 Nissan's 22 High Performance Centers are ready to arrive the first Nissan GT-R Track Pack 2012/2013 models.
The Track Pack package offers GT-R drivers a more focussed driving experience while still remaining fully road legal. On the outside, the new car features special six-spoke RAYS alloy wheels with gloss black centers. These wheels give a total weight saving over the standard GT-R of 10kg.
Additional brake cooling ducts built into the carbon front splitter reduce the operating temperature by as much 100 degrees during track use, whilst similar ducts hidden behind the rear wheels channel cooling air over the rear discs.
Track Pack also features special, stiffer suspension designed to optimise track performance. It will allow GT-R customers to achieve the best set-up at the track but, thanks to the special dampers, customers will be able to change the suspension for road-use at a flick of a switch.
Inside the car loses rear seats but gains two track-ready front sports seats. The Track Pack also has special blue-on-grey sports seats made from fabric and leather. A Track Pack emblem sits on the dashboard identifing this special GT-R model
The Track Pack is for now only available in the UK and Japan, and is priced at £ 10,000 more than the standard £ 74,450 GT-R. Other markets, expect the US, can expect the package later this year.