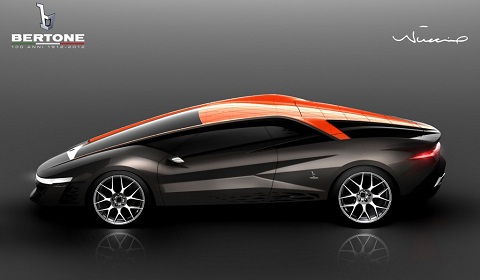 Italian design company Bertone is currently talking to a Chinese car collector to sell its one-off Nuccio supercar, which was officially released at the Geneva Motor Show 2012 in March.
The concept celebrates the Italian design companies centenary. It is named in honour of Giuseppe Nuccio Bertone, former owner of the Turinese design house.
According to Automotive News, the Italians asks 2 million euros for the concept, which cost 15,000 hours to design, engineer and build. They plan to complete the transaction for the car after showing it at the Pebble Beach Concours d'Elegance, in Monterrey, California, in August.
The design is typical of Bertone. Some of their most prolific designs, the Lamborghini Countach for example, have been in a similar fashion. The Nuccio Concept gets a low profile, wedge shape design with an innovative series of air intakes at the front, below a metal bumper strip proudly displaying the Bertone name. The profile of the car takes a lot from the Lamborghini Diablo with a recessed line allowing space for a set of rear-view mirrors.
Video Bertone Nuccio Concept Live in Geneva