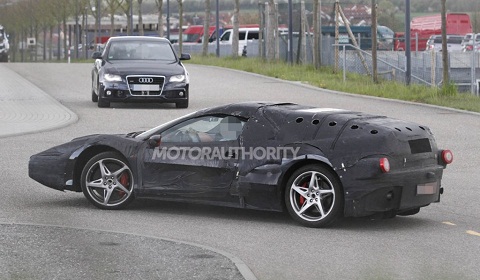 The successor to the Ferrari Enzo, the Ferrari F70, has been spotted out testing in Germany. Obviously, the pictures reveal very little about the finished car. Ferrari have kept the design of the new hypercar very close to their chest. The car in the pictures is heavily camouflaged and extremely distorted compared to what we expect to be unveiled at Geneva next year.
The Ferrari Enzo successor will feature the Ferrari V12 HY-KERS Powertrain hybrid powertrain unveiled yesterday at the Beijing Motor Show. This couples a Ferrari V12, rumoured to measure 7.3 liters, with two electric motors. The V12 will give 800hp and the electric motors will boost this by 120hp to give a total figure of 920hp. This places the Ferrari Enzo just short of the Veyron in terms of power, yet in a market of its own as one of the worlds most powerful hybrid engines.
The car will use carbon fiber and aluminium extensively to keep weight down to an incredible 1,130kg, over 200kg lighter than the Enzo. This will mean a power to weight ratio of 0.81hp per kilogram which can be compared to the Enzo's 0.48hp figure and the Bugatti Veyron Super Sport's 0.64hp figure. As the powertrain's name also suggests, the KERS regenerative braking system utilised in Formula 1 will play a part in the F70's power systems.
A lot of the above is pure speculation though. As we said, Ferrari are keeping details scarce. Development is well under way and the powertrain has been officially announced. However, we a re now expecting to see the Ferrari F70 at next years Geneva Motor Show rather than the Paris Motor Show in September. Needless to say, we will keep you updated!
For more pictures of the Ferrari Enzo mule, head over to MotorAuthority.