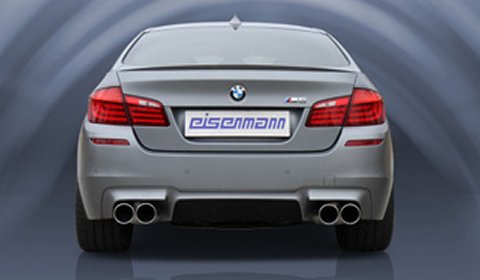 Eisenmann is ready to deliver a rear muffler system for the BMW F10M M5. The redesigned system comes in the Sport model for highway and the Race model for the racetrack. The Eisenmann rear mufflers have a four tailpipe design, each with a diameter of 90mm or 102mm.
The Sport model has EU highway approval. The racetrack model Race pushes the limits of sound further. As is always the case with Eisenmann, the entire system is hand-crafted in double-walled stainless steel. The rear muffler can be expanded with an optional center exhaust box to make it a complete system.
The stainless steel rear muffler is available in a version with four 90mm pipes for € 2,975 and with four 102mm pipes for € 3,095 Euro. The system will soon be available in Inconel alloy as well. Inconel has excellent characteristics such as heat resistance and a lower weight (about 30% lighter than the original system).