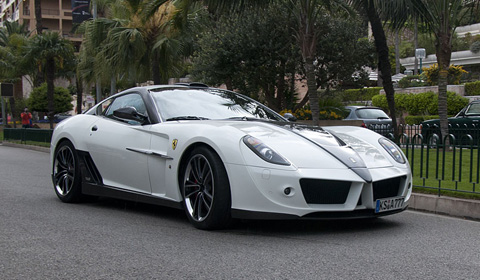 The Mansory Stalone ­‒ an exclusive modification of the Ferrari 599 GTB Fiorano ‒ made an appearance at Top Marques 2012 in Monaco. The exclusive package for the Ferrari was already introduced four years ago, but it still manages to impress the public.
Mansory has given the Stallone a visual finishing touch by the lift-reducing aerodynamics kit made of carbon. As a result of these modifications, the weight is reduced significantly when compared to production series components. Part of the expressive front structure is a downforce-generating front section with special air intakes for ventilating the new intercooler.
The side skirts steady the airflow between the axles and give the vehicle an athletic, aggressive look. The newly designed rear section with integrated diffuser stabilizes the rear axle and provides the necessary extra downforce.
The Mansory Stallone rides on 9×20 inch (at the front) and 12.5×21 inch (at the rear) lighweight forged wheels. The car has been lowered by 30 mm, which enhances the sportive and powerful look even more.
The 6.0 liter V12 has been tickled so it boosts out 720 horsepower, an increase of 100 horses compared to the original Ferrari 599. The torque has been increased as well, by an additional 92Nm. A stainless steel muffler underscores the whole package with its sound. The result of all these modifications is an acceleration from standstill to 100km/ in 3.5 seconds and a top speed of 340km/h.