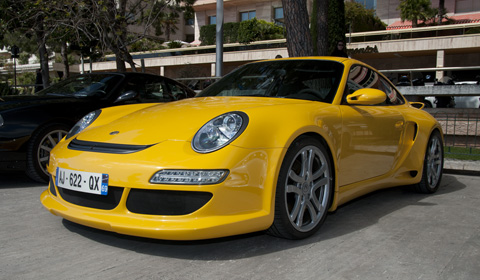 Delavilla presented the VRS 997 GT3 at Top Marques in Monaco.
The Delavilla VRS 997 GT3 is (as the name already suggests) based on the Porsche 911 (997) GT3. The French tuner offers its own unique silhouette and made-to-measure accessories. Four vertically superposed exhaust pipes reveal the vehicle's performance through an innovative system.
In addition to its sporty look, the package offers a reworked chassis incorporating specific dampers with the option of active suspension. In terms of engine power, the owner can choose from the Porsche engine range that offers something to suit everyone from 300 to 530hp.
With the help of an in-house colourist, the future owner can create their own bodywork colour choosing from a range of 21 pre-defined shades. This choice will then be protected by an "exclusive colour contract" which means no other VRS can be produced using the same shade, thus making it a truly unique model.
The options and accessories will then be selected from a list of accessories. For example, the scissor doors, not available from the manufacturer. This list is open-ended, ready to meet specific demands on a case-by-case basis.