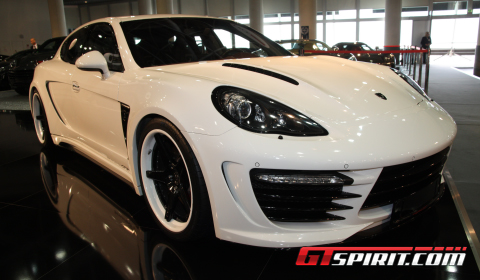 Top Car returned to Top Marques Monaco with their exclusive package for the Porsche Panamera. Here in Monaco, the Russian tuner showed the Panamera Stingray GTR.
Top Car is a company which has been involved in the tuning of premium cars since 2004. The company's goal is to create cars that are both luxurious and unique in style, while still maintaining the comfort and convenience for everyday use. This philosophy is translated into the Top Car Panamera Stingray GTR.
The Porsche Panamera received a makeover to boost the styling of the car. This includes new front and rear bumpers, bonnet, front and rear fender extenders, front and rear doors and side skirts. The Stingray GTR also features extended wings, advanced air vents, sharp outlines of blade front bumper and bonnet, strongly-marked rear diffuser and a spoiler on the boot lid.
An interesting design feature are the rear doors without handles, which are visually combined with the rear wings. These doors will open via a special disguised button. All the bodywork components are made from carbon fiber and Kevlar by TopCar itself. Additionally, the car is fitted with ADV.1 Wheels.
Upon request, the engine could be tweaked as well. The first stage enables the twin-turbo 4.8 liter V8 to offer 600 horsepower. A second stage which puts out an impressive 700hp is available as well.
Production of the Top Car Panamera Stingray GTR will be limited to only 25 cars. Prices for the complete conversion are set at € 47,765 for the carbon fiber parts and € 41,315 without carbon parts.