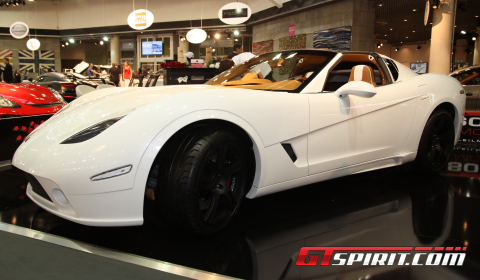 Soleil Motors is back at Top Marques 2012 with the Anadi, a coachbuilt Corvette which made its official debut at last year's edition of the prestigious car show in Monaco.
The Corvette received a complete new body work. The design was inspired by the human eye. According to the designer, these forms can be found in everything from the headlights to the windows. Another design feature is the illuminated honeycomb grill at the front, which signals your arrival from far.
At the previous edition of this show the interior was hidden due to tinted windows, but now the Milan based company was able to show a finished interior as well. The modern interior is made by Ercole and Paolo Spada of Spada Design Concept, known for their Codatronca sports car which was also on display in Monaco last year.
The 6.2 liter supercharged V8 provides 651 horsepower, which enables the rear-wheel-drive Soleil Anadi to accelerate to 100km/h in less than 3.5 seconds and to reach a top speed of 321km/h. For stopping power the Anadi relies on Brembo brakes.
The Analdi is available for order now at a price of $ 299,000 or € 230,000. The production is limited to 300 cars worldwide.