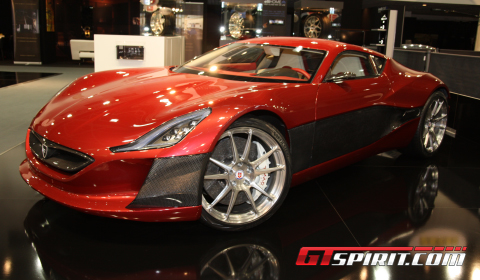 Dutch manufacturer Vredestein has launched a new high-performance tyre at Top Marques 2012, the Ultract Vorti. To present the tyre Vredestein has joined forces with Rimac Automobili, known for its ground breaking electric supercar called Concept One which is equipped with HRE Wheels.
The Vredestein Ultrac Vorti is the Ultimate High Performance tyre. The tyre was designed by top Italian designer Giugiaro and has been developed with the most advanced and sportiest high performance cars in mind. The Ultrac Vorti is on display on the Concept One during Top Marques Monaco in sizes 245/35 R 20 (front) and 295/30 R 20 (rear).
The Rimac Concept One made its public debut at the 2011 Frankfurt Motor Show. With 1,088hp and a torque of 1,600Nm available from zero rpm, the Concept One can reach 100km/h from standstill in 2.8 seconds and continue to accelerate to the limited 305km/h. 92kWh of energy in the Battery Modules delivers enough juice for up to 600km of range.
Rimac Automobili will officially start taking reservations and deposits for the production version of the Concept One on the opening day of the Top Marques Monaco. The first customers will have the privilege of owning this unique limited edition hypercar, with only 88 models being produced.
Rimac also revealed the price tag of the Concept One at the annual carshow and told us that the Concept One will receive a distinct redesign. The new model will have more interior space, will have a longer footprint and include additional interior upgrades to enhance the passenger's comfort. The Concept One is priced at 1,000,000 euros excluding local taxes.