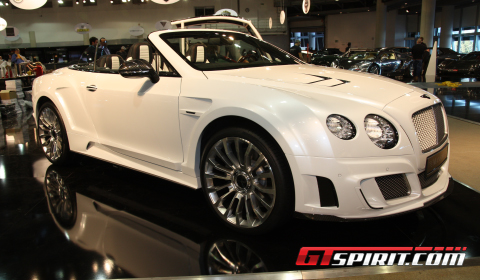 Mansory presented their package of the Bentley Continental at the 2012 edition of Top Marques in Monaco. The luxurious British GT received an optical as well as an mechanical overhaul.
The exterior was modified by installing a newly designed front apron with daytime driving lights and an extra-light carbon fiber bonnet. The carbon fiber front wings and rear widening components are combined with newly designed side sill sets. The new rear apron offers space for the exhaust pipes of the new exhaust system.
The engine has been tweaked as well: thanks to the sports exhaust system, sports air filter and optimised engine performance graph the output is raised to 672 horsepower and 780Nm of torque. This enables the Mansory Bentley to accelerate from zero to 100km/h in 4.5 seconds and the top speed is now 322km/h.