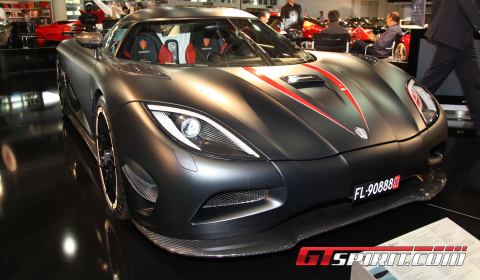 Koenigsegg showed the Koenigsegg Agera at Top Marques. The matte black Swedish hypercar with a detachable hardtop is one of the most powerful cars on display in Monaco.
The 4.7-liter twin-turbocharged V8 engine now produces a staggering 910 horsepower and 1,100Nm of torque. Thanks to a dry weight of 1,290kg, the Agera manages to reach 100km/h in 3.1 seconds and 200km/h in 8.9 seconds. Top speed is estimated at 390+ km/h.
The sinister looking supercar on dislay at Top Marques includes some additional features, making it an unique special edition dubbed 'Agera X'.