When the first generation Genesis Coupe first appeared on the market, the established journalists collective let out a large sigh and simply moved on. What with a bevy of all new, all refreshed performance cars out at the same time, the "new version of the Tiburon", was nothing to phone home about. With the brand new 2013 Genesis Coupe that stigma is gone. After driving the car for some days now and bringing it back to the importer, all we can say is that it's a fantastic achievement for Hyundai.
As far as exterior styling goes, the updated 2013 model is lower, faster, meaner and simply put, a better all-around package. The styling is reminiscent of the now commonplace 370Z, with touches of, dare we say, LFA – at night, mostly? Immediately apparent when looking at the car head-on are the aggressive hood scoops, like menacing eyes on a shark. Seeing those come into view in a rear view mirror will leave no doubt as to who is closing in on you. One qualm we have with the new hood scoop design: they are not functional. The as tested price on our review car, which was perilously close to $ 34,000, seems to warrant working hood vents or at the least, an option to remove them. They are in a constant state of being the dirtiest piece of bodywork on the car, at all times. We drove the car around for two full days. Not once in that time period, from driving out of the driveway, to pick up, were they clean.
But that doesn't really matter, does it? What really matters is the 40hp bump in performance from the previous generation Genesis Coupe. In track spec you are going to be getting 348hp from the 3.8 liter six-cylinder engine on premium fuel with only a nominal drop to 344hp if you choose to run to anything but the highest grade gasoline. All those figures mean you will be getting to sixty in just under five seconds. This car gains speed quickly enough when you're pulling out to pass on a two lane road, but also comfortable enough to cruise at freeway speed without too much of a headache. It is all but guaranteed that you will not be struggling for pace, whether on the track or on the road.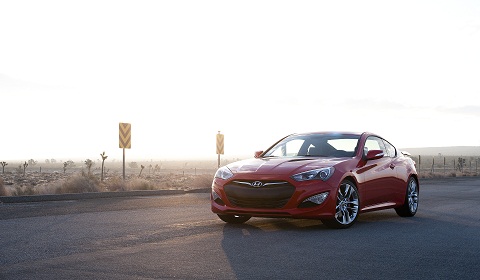 The exhaust, speaking of headaches, causes nothing of the sort. It is like a gift from the heavens every time you click the "push button" ignition. Downshifting, or even temporarily lifting off the throttle, at pretty much any speed, lets ring a harmonious burble and pop from just behind the rear seats. That being said, it does drone a bit at highway speeds if you are too frugal with your upshifting into 5th or 6th. But that is only really a complaint if you are bothered by those kinds of things, which means you are probably old; meaning you are not Hyundai's target market even in the slightest. So, for all intents and purposes, the exhaust note is spot on.
New for this model year is the optional seven-speed automatic with paddle shifters, as well as the old stalwart, the six-speed manual. Hyundai reports that over 30 percent of Genesis Coupe's are sold with the manual option. Who said the manual was dead? For our test, we opted for the six-speed manual, which was fantastic, even though it could be vague as to what gear you were going into at times (mainly 3rd to 2nd and 5th to 4th).
The clutch and steering are main criticisms here. The clutch was a bit too heavy, too "springy", if you will. It did not inspire confidence in finding the engagement point, but that is purely subjective. This may be nitpicking, but cornering at highway speeds left something to be desired. And we hesitate even to write this, because we honestly could not pin it down. It is not that the car does not communicate well; it does. The steering just does not feel responsive at those speeds. It is too twitchy. However, the wheel size and diameter are pretty close to being spot on. A little bit less on the diameter of the wheel would be a graceful update, but other than that, the steering feel is well finished and solid.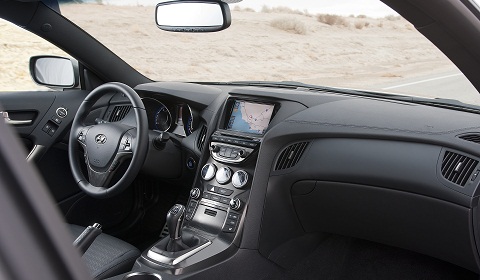 The interior is on par, if not a bit better, than other sports cars in the same price range. Cars like the BMW 3-series and Ford Mustang GT will give you about the same performance and interior, albeit with different approaches to how those options are delivered. Let's be honest here, when someone thinks of Hyundai, the eternal image of sub $ 20,000 econo-boxes come to mind, usually with a sullen image of some depressed commuter stuck in traffic for the umpteenth time.
Umpteenth time being the technical term here. The Genesis Coupe is basically a massive contradiction to the stereotype of beige and bland. Leather is laced onto every surface that needs to be touched regularly. Most of the controls are initiated through the touch screen interface, which is a bit fiddly and hard to reach while driving, but works well enough; nothing spectacular, but not horrible either.
The major complaint about the interior comes with the gauges. The gauges are tiny. It is not just the size either, the spacing and numerals of the speedometer are, and there's no other way to put this, poorly placed. The speedometer is laid out in such a way that "in between" speeds such as 30, 50, 70mph are not delineated in any way whatsoever. The dashed lines indicating those speeds are longer than the others, but are recessed so far into the concave of the gauge that you physically have to lean forward and spend a good few minutes contemplating the square root of pi before being able to guess what speed you were going. And by that time, you have already slid sideways into a tree.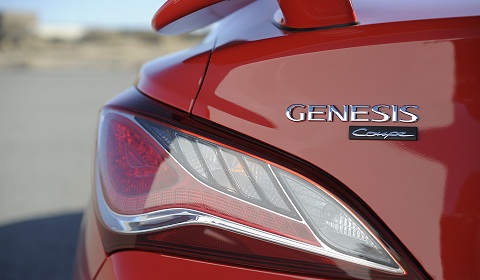 This is an epic grand-tourer. Just the right amount of power, so you don't have to constantly worry if that puddle up ahead is going send you careering to your death in a orchestra of tire smoke. It is comfortable and quiet at highway speeds, but symphonic when you really push the loud pedal.
Critically, it is a bit heavy and the steering just is not as responsible as the second generation of a car should be. Even with that said, it is an immense achievement. Just a decade ago, people would have scoffed at Hyundai building a car like this. It just is not what they do. Guess what? They do now.