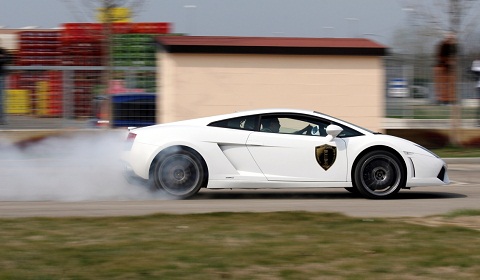 Motori & Sapori is an annual supercar meeting that takes place around the middle of March each year in the commune of Castelfranco Emilia near Modena, Italy. There's plenty to enjoy with this meeting, especially considering the location, just 40 minutes away from Maranello, 25 minutes from Sant'Agata Bolognese and a similar distance from Maserati!
Our Italian reporter Matteo from Italiansupercar.net was there to capture the parade of Italian cars. The event is organised over the course of three days with static displays, race meetings and a bit of showing off all part of the programme. A wide variety of cars showed up to the event this year, mainly from the big three Italian brands, Lamborghini, Ferrari and Maserati!
Our photographer was most impressed with was a matte black Lamborghini Aventador, brand new and in pristine condition. Lamborghini were also represented by a Lamborghini LP550-2 Balboni, a Lamborghini LP570-4 Superleggera, a Lamborghini Diablo and a Lamborghini Murcielago. Ferrari 458's, Ferrari 360 Modena, Ferrari California's and Ferrari F430's were all represented. Maserati's came in the form of a Maserati Biturbo, the Maserati Granturismo and a Maserati 3200.
Enjoy the photos and be sure to turn up your speakers for the double burnout show at the end featuring the Ferrari 458 and the Lamborghini LP550-2! More can be found on Italiansupercar.net's website!