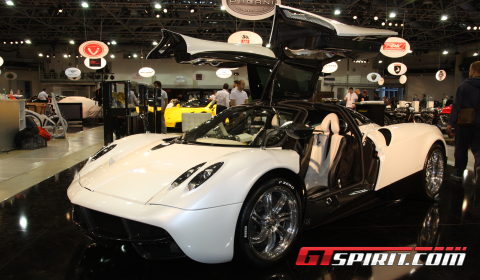 Pagani is once again present at Top Marques with the Huayra White Edition and once again the Italian supercar is one of the great stars in Monaco. The previous edition of the prestigious car show featured the Huayra and two years ago the Italians presented the Pagani Zonda Tricolore.
The bodywork of the Pagani Huayra White Edition featuring gull-wing doors is made from carbon titanium. This advanced composite material was first tested on the Zonda R and combines the highest levels of rigidity with maximum lightness. The total weight of the Italian mid-engined sports car is 1,350kg.
The Huayra is powered by a Mercedes-AMG twin-turbo V12. Displacement is 5,980cc and power peaks at 700 horsepower and 1,000Nm of torque. The power and enormous torque is transferred to the rear wheels via a seven-speed sequential gearbox cross and a dual-disc clutch. This enables the Huayra to accelerate from standstill to 100km/h in 3.3 seconds, while its top speed is an impressive 370km/h.
Pagani has already received over 85 confirmed orders for the Huayra. This year Pagani is set to produce 25 Huayra's and another 40 will follow in 2013. The first deliveries will be made this month.
If you would like to know more about the Pagani Huayra, check our first impression with this stunning car.