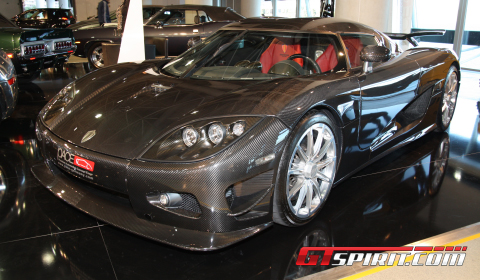 PACE Inside Cars came with two of the world's most exclusive and powerful cars to Monaco. Here at Top Marques the German exclusive car dealer showed a Bugatti Veyron and a Koenigsegg CCXR Edition.
The Koenigsegg CCXR Edition is a limited edition, the model pictured here is the sixth and last one ever built. The CCXR Edition features a fully visible carbon fiber and Kevlar body, a large adjustable rear wing, larger front splitter and side strakes for increased downforce and a unique forged wheel design.
The CCXR is powered by a modified twin-supercharged 4.8 liter V8 engine which is converted to use E85 or E100 ethanol fuel as well as standard 98 octane petrol. Since the ethanol in biofuel has a much higher octane rating and internal cooling capacity, the engine can run with higher compression, boost pressure and more spark advance whilst still maintaining the same exhaust temperature.
When running on petrol, the engine delivers 806bhp. This already-impressive figure rises to an exhilarating 1018bhp when the car is run on biofuel. This amount of powered results in an estimated top speed of 400+ km/h (250+ mph). The CCXR Edition accelerates from 0 to 100km/h (62mph) in 2.9 seconds and from 0 to 200km/h (120mph) in 8.9 seconds. The braking distance while driving at a speed of 100km/h is just 32 meters.
The hypercar is for sale via PACE Germany. If you are interested you can contact us via the contact link and we will guide you to the appropriate person.