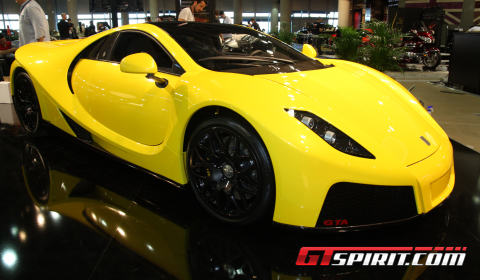 GTA Motor is back at Top Marques 2012. The Spanish supercar manufacturer unveiled a prototype at Top Marques 2010, were also present at the previous edition and are now back with two production versions of the GTA Spano.
The GTA Spano is powered by an 8.3 liter supercharged V10 engine with a maximum output of 830 horsepower and 960Nm of torque. The mid-mounted engine is paired with a seven-speed transmission ‒ either manual or with paddle shifters ‒ that transfers the power to the rear wheels. Acceleration from zero to 100km/h is done in 2.9 seconds, the top speed is more than 350km/h.
For stopping power the GTA Spano relies on 380mm carbon-ceramic ventilated disc brakes with 6-piston callipers. The supercar also has ABS and a sophisticated traction control system. The tyres ‒ 255/35 x 19 inch at the front and 335/30 x 20 inch at the rear ‒ are manufactured exclusively for this car by Pirelli.
GTA Motor also offers self-adjusting shock absorbers which are capable of raising the car by up to eight centimeter to avoid potholes and regular speed bumps on roads, and to facilitate access to arages.
The chassis has been built completely out of carbon fiber, titanium and Kevlar which is renowned for its great rigidity and its lightness. Thanks to this, the monocoque weights just 56kg and the total weight of the car is 1,350kg. One of GTA Spano's main innovations is its panoramic glass roof with exclusive interior lighting and an opaqueness system.
Production of the Spanish supercar has already commenced and will be limited to 99 units. The first units will be ready for customer delivery at the end of this year.