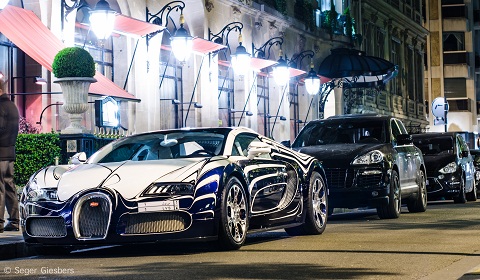 The Bugatti Veyron Grand Sport L'Or Blanc is probably the most unique Veyron in the world. Not only is it a special edition, which doesn't count for much in the world of Bugatti Veyrons, it also gets an entirely bespoke exterior. No carbon fiber for this special edition, instead the body panels are all produced entirely from porcelain!
That fact makes it a risky car to take on your summer holiday to Europe, however, it seems the new Saudi Arabian owner has done just that. The Bugatti Veyron Grand Sport L'Or Blanc has been spotted on the streets of Paris over the past week and Seger Giesbers was there to capture to scene via photograph for us! He spotted the porcelain Veyron outside the Plaza Athenee.
The Bugatti Veyron Grand Sport L'Or Blanc came about as a joint venture between Königliche Porzellan-Manufaktur Berlin (KPM). KPM used their finest porcelain to create the exterior and interior parts that make the Bugatti Veyron Grand Sport L'Or Blanc so unique. Each part had a specific cast and tests were carried out for several weeks to calculate the shrinkage of the material once heated in the kiln to over 1200 degrees centigrade.
The Bugatti Veyron Grand Sport L'Or Blanc is the first car to use such a material in its construction. After creating the porcelain body work, the car was precision painted by Bugatti engineers and covered in no less than five layers of clear lacquer. The price? A cool 1.65 million euros.
It's fantastic to see something like this sitting on the street where people can view it in its intended environment instead of the temperature controlled environment that Bugatti most likely expected it to live in. Hopefully it will do the traditional Arab European tour so car fans will be able to get a glypse of it on the road!
Don't forget to check out Seger's facebook page for more awesome photography! For video of this fantastic hypercar, please visit our earlier post!