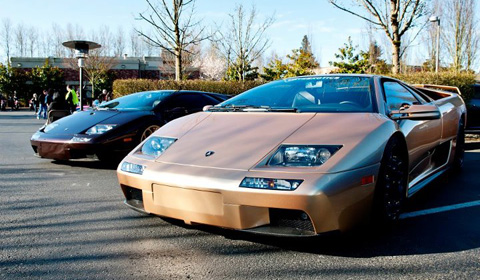 The annual Red Square Car Show took place last Saturday at the University of Washington in Seattle. As a collaborative effort between social fraternity Sigma Phi Epsilon, exclusive car dealer Cats Exotics, and premier auto detailing facility NorthWest Auto Salon, the Red Square Car Show has been known to feature a broad spectrum of high end exotics, import tuners, and classic muscle cars.
The last edition had over 70 cars in attendance and was visited by over 3,000 spectators. And most important, the organizers raised well over $ 3,000 dollars for Progressive Animal Welfare Society (PAWS), an organization which helps injured and orphaned wildlife, offers sheltering and adopts homeless cats and dogs, and educates people to make a better world for animals and people.
Thanks to Jonathan Cats we received a great collection of pictures and a video showing the highlights of this event. These includes many supercars like Lamborghini's, Ferrari's and even a Koenigsegg. For more pictures visit the Facebook page of Cats Exotics.