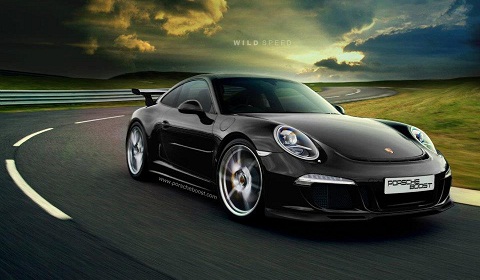 Hardcore 911 fans will be anxiously anticipating the arrival of Porsche's most track-biased 911, the Porsche 991 GT3. We believe that we won't see the GT3 until at least September's Paris Motor Show. Perfect territory for a speculative rendering then, this time completed by Wildspeed!
Very little is known about the new Porsche 911 (991) GT3 so these renders are purely speculative. Obviously they take into account the spyshots we've seen so far, so we can assume that they do at least bear some resemblance to the highly anticipated model.
The 3.8 liter engine will get around 450hp in the new Porsche 911 GT3. Expect a weight-loss program to shave 40kg from the standard cars weight thanks to a stripped out interior, lightweight wheels and lightweight body panels. We are told Porsche will not offer a PDK gearbox with the 911 GT3, manual will be the only option.
[Via Porscheboost.com]