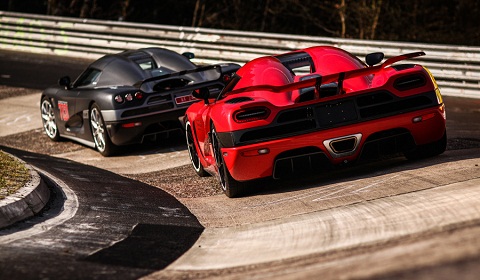 We've got more Gran Turismo Nurburgring photos for you this morning. Another fantastic set from the lens of Dennis Noten. This set was taken on the first track day of the event. It features the Koenigsegg Agera R and CCXR at multiple stages along the track. It also shows the wide variety of supercars out on the track.
Dennis captured the Dodge Viper leaving for a lap, a Nissan GT-R already on a lap, the McLaren MP4-12C coming round Caracciola Karussell ("The Carousel") and and Audi R8 GT putting in a lap.
The event was limited to a hunderd cars, however, no limitations were placed on the track. Instead of having to stop at Grune Hölle each lap, participants can continue along another 22km lap. Track days start at 08:00 and finish ten hours later at 18:00 giving the drivers three ten-hour sessions for the sum of £ 3,300 plus taxes!
Organisers also managed to secure Tony Ring and Sabine Schmitz as instructors. Enjoy the photos and be sure to head over the Dennis' facebook page for more!